Posts tagged 'single parent'
Help This Single Mom Finish Her Bachelor's Degree
February 17th, 2021
—
Have you ever felt stuck on your journey towards better things? Well H.O.P.E is helping single parents all over metro Atlanta overcome this "stuck" feeling, especially when it comes to finishing school.
—
In fact, one of our current students— a single mom named Ruby, has been working tirelessly over the past few years to finish her Bachelor's degree. Her most recent obstacle? Running out of student aid at her school.
Ruby has done all she could to get through school, but after losing her R.O.T.C scholarship due to her weight, being diagnosed with cancer, and learning that her four-year-old son has autism, her dream of completing a college education felt so far away.
We're proud to have served so many hard-working single parents in Metro Atlanta, and we're always looking to do more. We believe that the success of our program is largely due to our holistic approach, and the time we spend making sure each participant has what they need to succeed.
As a small team of only two full-time employees, we're working hard every day to meet the needs of our participants— and we always appreciate the extra help.
With only two semesters left until Ruby completes her Bachelor's in Technology (something which will benefit both her and her son), we're determined to see her through.
—
But we need your help. In order to support Ruby as she realizes her dream of graduating college, we've set up this Global Giving page. Let's make sure Ruby can finish out these last two semesters once and for all.
—
Any donation you make will help us to continue our mission of HOPE: to empower, encourage, and equip working single parents like Ruby throughout our community, allowing them to provide a better life for themselves, their children, and generations to come.
—
Thank you for all you do to continue giving HOPE to our community. 
Sincerely, 
Team H.O.P.E
Category: Uncategorized | Comment (0)
We're hoping it does!
June 3rd, 2020
They say that April showers bring May flowers, but does it? Is there really hope on the other side of this pandemic? We certainly believe there is hope. We see it every week through the actions of our donors. Here's a video telling you just how much they've supported single-parent families that need them right now! We also slid in a little update about how we're doing as an organization overall. I hope you enjoy it!
Sincerely,

Kenita Smith, BBA, MBA, MA
President/CEO & Founder
H.O.P.E, Inc.
P.S. Don't forget about our Redirect HOPE giving campaign! The only way to keep helping the single-parent families in our program is through the donations you give. The SBA loans and other COVID19 relief efforts can't be used to provide direct program services. We need you to keep HOPE going another ten years. Click here to donate the gas, restaurant, hair cut, coffee, or nail money you saved and make a difference. 
Category: Uncategorized | Comment (0)
Had you found the same?
May 7th, 2020
I received a call from a monthly donor a few weeks ago stating that she was doing her monthly budget when she realized she had more income than in previous months due to a decrease in expenses from being quarantined. She immediately called to see if she could increase her monthly donation.
Since her call, we have had several monthly donors do the same without having to ask them, and even other supporters were looking for more ways to help.
I've noticed myself that my household has saved hundreds in gas,   and hundreds more in cosmetics such as hair, nails, pedicures,   massages, entertainment, and even auto insurance.
 What about you? 
Are you noticing that you have more money available these   months and are you looking for ways to help people during   COVID19?
 If your answer is yes, we have a great opportunity for you! Why   not give the $35 you would have spent on nails this month, or the   $200 you saved on gas, to single-parent families that need your       help?
We've had 50% of our active participants affected by this disease with either the virus itself, job loss, or reduced hours. Like other nonprofits, we are fundraising vigorously to support our single-parent families. That's why we have started a COVID Relief fund to meet their needs.
If you would like to give to that fund between now and June 30th, please click here and impact lives when they need you most!
Sincerely,

Kenita Smith, BBA, MBA, MA
President/CEO & Founder
H.O.P.E, Inc.
P.S. Want to help people impacted by COVID19? Donate to our COVID Relief Fund and give hope to single parents in need. 
Category: Uncategorized | Comment (0)
The Fight is Not Over!
May 4th, 2020
Hey HOPE Family, 

We will not allow the coronavirus to stop our commitment to single parents.
Why? Because despite the challenges this virus has created, we still have single-parent
families who depend on us. They cannot wait until "normalcy" returns. Therefore, we will not rest while they wait for government stimulus checks and unemployment, and we hope you will not wait, either.
That's why on May 5th, we are participating in #GivingTuesdayNow. This global day of giving and unity was created as an emergency response to the unprecedented need caused by COVID-19.
On this special day, please consider making a gift to help our community when it's needed most. Your donation is tax-deductible, and your gift will be used to serve our single-parent families when they need our support the most.
Our work does not stop because of a crisis. That is why your support is appreciated now more than ever. Thank you in advance for joining us on this remarkable day of giving and unity, and for continuing to be a partner we can count on.
With gratitude,

Kenita Smith, BBA, MBA, MA
President/CEO & Founder
H.O.P.E, Inc.
P.S. On May 5th continue to make a difference in the lives of those that need you! The fight isn't over for our single parents, but you're keeping their HOPE alive. 
Category: Uncategorized | Comment (0)
I didn't give up!
March 16th, 2020
My name is Vlairis, I am a single mother of a three-year-old, and I was a full-time dental hygiene student. My dream had always been to work in healthcare since I was a little girl and that dream continued as I went through high school.
I found out about the dental hygiene career, and I fell in love with it. Since 2009, when I graduated from high school, I had been working towards that dream. Because my parents did not have the financial resources to enroll me in college, I was not able to enroll in post-secondary school right away and had to get a job instead. Yet, my desire to accomplish my dream never wavered.
Years later, with great excitement, I was able to finally enroll in college! However, before I could accomplish my goal of becoming a dental hygienist, I became a mother to my now three-year-old little boy. Some women may have given up due to the known hardships of being a single parent, but I didn't give up! I knew that I had an even bigger reason to accomplish my goals.
As a single mom full-time college student, it was impossible to make daycare and rent payments. Thankfully, that's when you came in! You were right on time to help me achieve a better future for my son and I. You gave me help with daycare, rent, and even paid for three months of swimming classes for my son during the summer. In addition to financial assistance, you provided training and seminars to help me make better financial decisions in the future. I will forever be thankful for the assistance and help you gave me throughout my journey.
Now you have the opportunity to help more single parents like me make a difference. There are seven more single mothers waiting to graduate from college behind me, and they need you to do it. H.O.P.E, Inc. is trying to make their dreams come true with it's Global Giving: Empower & Equip Single Parents Enrolled in College Project. Won't you click here and give today to affect change in seven more people's lives?
Thank you for all you did for me and will continue to do for others!
Proud Graduate,

Vlairis E.
Dental Hygienist
P.S. Make sure your donation counts by going to our Global Giving Project page to give your gift! Help more single moms like Vlairis beat poverty. 
Category: Uncategorized | Comment (0)
Today is the Day!
March 9th, 2020

It's March 9th! Today is the day that we kick off our Global Giving Project that we told you about a couple of days ago.
The purpose of this project is to help seven single parents complete their college degrees this year and increase the number of single parents we assist. Now we know that sometimes you may feel like there's always a need and you just can't help everyone, but we would like to offer another perspective.
Yes, there is always a need, BUT you have single-handedly met the needs of 195 people SUCCESSFULLY! In Gwinnett County alone, less than 30% of single-parent students are graduating, but YOU have an 80% graduation rate! You aren't making a small difference, you are making a HUGE difference!!
This project will give you the option to keep doing what you've been doing and impact more lives, but it will also open the opportunity to others that may want to help too!
What do we need you to do? (1) We need you to go to our Global Giving Project: Empower & Equip Single Parents Enrolled in College and commit to offering one of the following gifts to our single parents…
– $10 to help a single parent open a savings account
– $25 to provide financial training for a single parent
– $50 provides counseling for a single parent
– $100 provides a full weeks worth of childcare
– $250 shelters a single parent and their children for one month
– $1,000 secures childcare for a year!
REMEMBER YOU HAVE TO DONATE THROUGH OUR PROJECT SITE, NOT OUR WEBSITE FOR THE GIFT TO COUNT.
(2) Become our ambassador and share your donation on your social media sites, encouraging others to join you. They say child-rearing takes a village, well I'm convinced that fundraising does too. The great thing about our village is that you're always there!
We have two weeks to reach our goal of $5,000 from 40 different donors! Will you make it happen? I'm confident that you will.
Sincerely,


Kenita Smith, BBA, MBA, MBA
President/CEO and Founder
H.O.P.E, Inc.
P.S. It's kick-off day! We need 40 donors to go to our Global Giving Project: Empower & Equip Single Parents Enrolled in College and help us reach our project goal of $5,000! 
Category: Uncategorized | Comment (0)
What would you do?
March 6th, 2020

What would you do with a 121% increase in salary? I would imagine that things would look quite different financially for you. You would be in a new tax bracket, economic class,
could possibly afford to purchase things you've dreamt about, and would certainly improve your quality of life, right?
Well, that's what 42% of our graduates are experiencing right now. With less than one year in their new careers, many of them have increased their annual income by 121%! Most went from making under $20,000 to over $50,000 because YOU believed in them!
I'm writing today to tell you about an exciting opportunity that we have this month, and we need your help to achieve our goal.
It's no secret, that we have been on a mission to grow, and we have done so gradually and gracefully over the past ten years, especially in the last three years. This month we have an opportunity to become members of the Global Giving Network, but in order to do so, we need to raise a total of $5,000 from 40 individual donors to help increase the number of single parents we can serve this year.
The name of our project is Empower & Equip Single Parents Enrolled in College, and we need all of our supporters to go to our project and give between the dates of March 9th and March 25th. Now, the KEY is you MUST give on our Global Giving site within these dates for the gift to count. You can give…
$10 to help a single parent open a savings account
$25 to provide financial training for a single parent
$50 provides counseling for a single parent
$100 provides a full weeks worth of childcare
$250 shelters a single parent and their children for one month
$1,000 secures childcare for a year!
Why is this important? We want to see our seven upcoming graduates increase their incomes by 121% too, and we want to empower more single parents to complete their college education. What you all have done is nothing short of AMAZING through our HOPE program, and we want to keep up the good work we are both doing in the community.
Let's keep changing lives together and exceed our project goal to reach more single parents!
Sincerely,

Kenita Smith, BBA, MBA, MA
President/CEO & Founder
H.O.P.E, Inc.
P.S. it all kicks off March 9th! We just need 40 individual donors to help us raise $5,000 to change more lives! 
Category: Uncategorized | Comment (0)
In less than 30 days…
February 4th, 2020
Hey there,
In less than 30 days, my world as I know it will change. You've heard stories about how I became a single mom at age 21, and have raised my two biological sons, and stepson, Deon Jr., to beat the odds. Well, within 4 weeks there will be a new addition to my family, and yes, it is another BOY!
We wait with anticipation because Ronald Jr. (RJ) has been longed for with faithful prayers for 25 years by my husband, Ron. RJ will be his very first biological child and the very first grandson on his side of the family! It's no wonder that our families and friends are so excited for us, as evident by the 100 people in attendance for our baby shower last weekend (and that was a reduced list).
I feel privileged and honored to give my husband this great gift, and in thinking about what it means to have a dream fulfilled, I thought about the great gift you and I give to the single parents we serve every day. Of course, being a conduit of something so special changes one's life and perspective.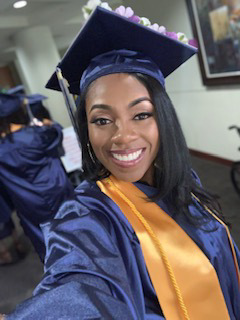 I think about how you helped give Dominique (pictured on the left) her long term dream of becoming a Dental Hygienist. After twelve years of hoping to achieve this goal, she graduated in December 2019, along with nine other graduates! Not only that, she was THE FIRST MEMBER IN HER FAMILY TO GRADUATE FROM COLLEGE! Of course, as a teen mom, she wasn't expected to accomplish much. The odds were stacked against her, and society stipulated her abilities and worth. Yet, she graduated with a high G.P.A, had job offers in hand before walking the stage, passed her state boards, and increased her salary from $18,000 to $35,000! She took advantage of our financial training programs, increased her credit score by 32 points, and established an emergency fund of $600.
In the months to come, we'll be sharing your impact in 2019. Life change, like what you just accomplished through your work with H.O.P.E, Inc., is not something to take lightly. Ten lives were changed just last year because of you, and in 2020 seven more graduates will walk across the stage due to your continued support!
So, as I wait for my bundle of joy, I hope that you are filled with joy. The joy of knowing that you not only changed one life last year but ten and you have seven more to impact this year!
Sincerely,


Kenita Smith, BBA, MBA, MA
President/CEO & Founder
H.O.P.E, Inc.
Category: Uncategorized | Comment (0)