What did you hate most about running 5K's before?
June 19th, 2020
Was it the early call time or the far locations that kept you from participating in local 5K events before?
Well, we're excited to announce that the Deon Lewis Memorial HOPE Run (Neon Deon Run) is going virtual this year! That's right, you can participate from anywhere in the world, at any time, anywhere you want during the dates of our event.
But virtual doesn't have to mean without interaction. You'll still feel the great energy that our 5K is known for. We'll have live pre-workout videos every day of the race, a little comic relief, and a live award ceremony to top it off. Here's a little video explaining how it all works. https://youtu.be/OaR7EY3rcSw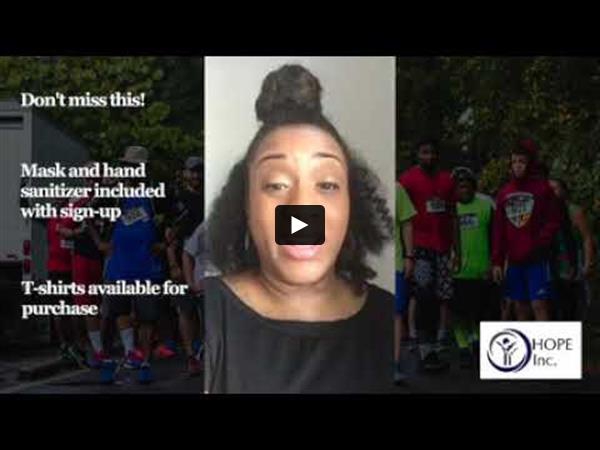 What I love most about this event is that many of our out of state friends can finally run and walk with us and it only costs $10!  Click this link to pre-register to ensure that you get your face mask and hand sanitizer with registration.
Sincerely,


Kenita Smith, BBA, MBA, MA
President/CEO & Founder
H.O.P.E, Inc.
P.S. Run or walk with us anytime from September 21, 2020, at 8 am through October 7, 2020, at 11 pm for our Neon Deon Run to support low-income single parents while fighting the invisible enemy, Coron
a
Category: Uncategorized | Comment (0)
There is a real fear
June 4th, 2020

If you're connected at all to any form of communicative device, you are aware of the worldwide protest going on right now due to the countless and senseless murders of
young black men (and at times young black women) at the hands of law enforcement. For years, young black men have been murdered simply due to stereotypes, racism, and fear.
You may ask yourself, why is this something that we would address through our nonprofit's platform. The answer is simple because 95% of the participants we have supported in our ten-year life span have been African-American. Even further, I am a young black mother, with a black husband, and four black sons. And there is a real fear. 
Just recently, my son was pulled over after work for speeding trying to pass the car in front of him, and I was SCARED. My first thought was, "NO, NOT NOW!" Because protest had been going on for a couple of days and I didn't know if he was going to encounter an agitated cop. I prayed that he would remember to use the techniques I taught him about how to engage with a police officer if pulled over…to place his hands on the dashboard at all times, be polite and not argumentative, don't reach for anything unless asked (and even then announce what he is grabbing), keep everything in one place so that he is not reaching in different places for the documents he needs, and lastly, if you are arrested don't resist and don't say a word. I'd hoped he would make it home alive and safe because I've seen videos of young black men murdered during a routine traffic stop even when compliant. And for what? Fear. 
Much of why we do the work we do at H.O.P.E, Inc. is to break barriers and defy stereotypes. I didn't want to be a statistic, and neither do our single parents. They work hard to fight the double standards of society that pre-judge their ability, professionalism, intelligence, and even their worth because of the color of their skin. We support education with hopes that they can be taken seriously and earn a liveable wage to avoid a life of poverty. This movement helped birth H.O.P.E, inc. before it was named because it is a fight that African-Americans have had to fight since we were brought to this country.
We are blessed to know that we are supported by a diverse group of people that help us break barriers every day. They see the passion of our single parents and they care, but do they care enough to stand? It is imperative that their voice is heard just as much as ours so that we can live out the dreams of civil rights icons like Martin Luther King, Jr. that fought for equality.
There is a real fear and African-Americans are tired. We're tired of dying, and I hope if you are not African-American that you are tired of reading about it and are moved enough to protest, talk to people you know that have the wrong view of what's happening today and support your black and brown brothers and sisters. This is humanities fight, not just ours.
Sincerely,


Kenita Smith, BBA, MBA, MA
President/CEO & Founder
H.O.P.E, Inc.
Category: Uncategorized | Comment (0)
We're hoping it does!
June 3rd, 2020
They say that April showers bring May flowers, but does it? Is there really hope on the other side of this pandemic? We certainly believe there is hope. We see it every week through the actions of our donors. Here's a video telling you just how much they've supported single-parent families that need them right now! We also slid in a little update about how we're doing as an organization overall. I hope you enjoy it!
Sincerely,

Kenita Smith, BBA, MBA, MA
President/CEO & Founder
H.O.P.E, Inc.
P.S. Don't forget about our Redirect HOPE giving campaign! The only way to keep helping the single-parent families in our program is through the donations you give. The SBA loans and other COVID19 relief efforts can't be used to provide direct program services. We need you to keep HOPE going another ten years. Click here to donate the gas, restaurant, hair cut, coffee, or nail money you saved and make a difference. 
Category: Uncategorized | Comment (0)