Sweetest Memory!
February 14th, 2020
This time fifteen years ago, I gave birth to my youngest boy (thus far), Marcus! It was surreal because his actual due date was Valentine's Day, and I remember thinking there
was no way he would be born on that day. I was 25 years old, and studying for a huge nursing exam with some friends and fellow nursing students on February 12, 2005. I remember driving home and having a talk with Marcus telling him to not be late (like his older brother was) and to come on time. Marcus has always been laid back and a pretty obedient child. Without any delay, I started having contractions five minutes apart the next morning and after a day of waiting, Marcus was born on Valentine's Day morning. What a great love gift for me and my family!
Today, as we wait for RJ to bless our lives, I think about all of the great expectations this year brings. We had ten graduates that are just beginning their new careers and a life full of great expectation, and another seven single parents that will be graduating this year and ready to experience the beginning of their new normal. A life without school, and hopefully, a life full of opportunity.
This year, I hope this day means more to you than just flowers and chocolates. I hope you realize that you have been the sweetest gift to me and 195 other people. And I pray it's evident that you course-corrected generations to come and your gift is invaluable to people like Valerie! Read her thoughts about your gift in her own words…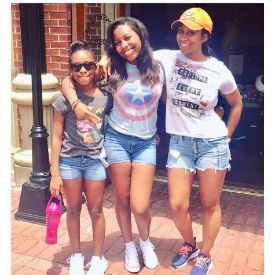 "I would like to thank you for all of your help! Your unwavering support of me pursuing my degree is truly a blessing. Your support allowed me to put forth more time to study. The financial support, along with the motivational support you continued to show for me and my family, will never be forgotten. Your program to assist mothers who are trying to do better, and be better, is nothing short of amazing! It's hard to commit to a full-time program while trying to juggle being a single mother and working. With your support, you've allowed me to be an example to my daughters. The seminars, assistance for summer camp and your personal phone calls have been a true testament to a prayer that was answered." Not only has Valerie graduated, but her oldest daughter is getting a full ride to college! How about that for impact?!?
Happy Valentine's Day H.O.P.E Family! You're the gift that keeps on giving!
Sincerely,


Kenita Smith, BBA. MBA, MA
President/CEO & Founder
H.O.P.E, Inc.
P.S. We have more exciting news to come! Look out for it.
Category: Uncategorized | Comment (0)
In less than 30 days…
February 4th, 2020
Hey there,
In less than 30 days, my world as I know it will change. You've heard stories about how I became a single mom at age 21, and have raised my two biological sons, and stepson, Deon Jr., to beat the odds. Well, within 4 weeks there will be a new addition to my family, and yes, it is another BOY!
We wait with anticipation because Ronald Jr. (RJ) has been longed for with faithful prayers for 25 years by my husband, Ron. RJ will be his very first biological child and the very first grandson on his side of the family! It's no wonder that our families and friends are so excited for us, as evident by the 100 people in attendance for our baby shower last weekend (and that was a reduced list).
I feel privileged and honored to give my husband this great gift, and in thinking about what it means to have a dream fulfilled, I thought about the great gift you and I give to the single parents we serve every day. Of course, being a conduit of something so special changes one's life and perspective.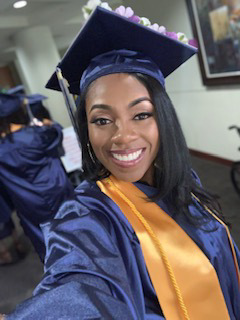 I think about how you helped give Dominique (pictured on the left) her long term dream of becoming a Dental Hygienist. After twelve years of hoping to achieve this goal, she graduated in December 2019, along with nine other graduates! Not only that, she was THE FIRST MEMBER IN HER FAMILY TO GRADUATE FROM COLLEGE! Of course, as a teen mom, she wasn't expected to accomplish much. The odds were stacked against her, and society stipulated her abilities and worth. Yet, she graduated with a high G.P.A, had job offers in hand before walking the stage, passed her state boards, and increased her salary from $18,000 to $35,000! She took advantage of our financial training programs, increased her credit score by 32 points, and established an emergency fund of $600.
In the months to come, we'll be sharing your impact in 2019. Life change, like what you just accomplished through your work with H.O.P.E, Inc., is not something to take lightly. Ten lives were changed just last year because of you, and in 2020 seven more graduates will walk across the stage due to your continued support!
So, as I wait for my bundle of joy, I hope that you are filled with joy. The joy of knowing that you not only changed one life last year but ten and you have seven more to impact this year!
Sincerely,


Kenita Smith, BBA, MBA, MA
President/CEO & Founder
H.O.P.E, Inc.
Category: Uncategorized | Comment (0)